26.05.2018.

"Metalex", the oldest private company in Prnjavor, started the intensive development of commercial activity four decades ago. Over 40 years, this company has carefully followed the needs and requirements of customers adapting its capacities to the requirements of the market.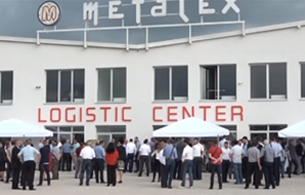 As one of important strategic goals in raising quality of service, there imposed the need to open the Logistics Centre. Storage area with the surface of 3,500 m2 was constructed in line with the latest standards including modern equipment for handling. It is divided into two parts: one part is the area for storing harmless substances, while the second part is reserved for dangerous and flammable substances. Logistics Centre employed 15 new workers. Maximum storage capacity is 2,500 m2 wherefrom further distribution is carried out throughout the Republika Srpska and Bosnia and Herzegovina.
At the opening ceremony, the mayor of Prnjavor, Mr. Darko Tomaš stated: "I am convinced that the next 40 years will be as successful. This is a great day for our entire local community as nowadays it is very important to establish new economic operators and I am also convinced that it is only the beginning while in the forthcoming period we will have more domestic economic operators who wish to expand their production capacities, whereas I understood that my mission as the mayor is to help them in that and create conditions."
During the ceremony a special-purpose van was donated to the Association of parents and children developmentally challenged "Neven" from Prnjavor.
Source: TV "K3" Prnjavor