Employment and unemployment in the Prnjavor Municipality
Since 2015, the number of the unemployed constantly decreases, while the number of employees increases.
Number of the unemployed in the Prnjavor Municipality continued to decrease – in 2021, there was 62% less the unemployed than in 2016.
Number of employees increased in the period 2016-2021 – in 2021, there is 6% employees more than in 2016.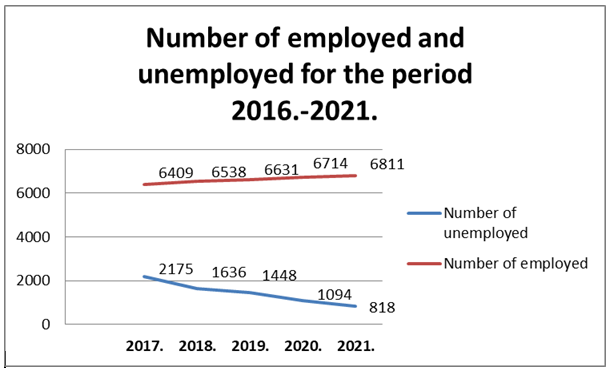 Source: Institute for Statistics of the RS
In the territory of the Prnjavor Municipality, the number of employees as of 31 December 2017 amounted to 6,409.
Table 1- Average number of employees in the territory of the Prnjavor Municipality
Average number of employees

Year

2017.

2018.

2019.

2020.

2021.

Prnjavor

6.409

6538

6631

6714

6811

Total in the RS

260.608

266.309

272.366

274.227

279.030
Source: Institute for Statistics of the RS
ACTIVE SUPPLY OF WORKFORCE IN THE TERRITORY OF THE PRNJAVOR MUNICIPALITY
ACTIVE SUPPLY OF WORKFORCE
-QUALIFICATION AND AGE GROUPS-

Qualification

Total

Women

Age group

Total

Women

No education

74

32

Od 15 - 18

1

1

Unskilled workers

75

76

Od 18 - 20

38

15

Semi-skilled workers

30

15

Od 20 - 24

342

171

Skilled workers

488

347

Od 24 - 27

183

110

Secondary school education - technicians

135

396

Od 27 - 30

195

103

Highly-skilled specialists

8

4

Od 30 - 35

224

126

College

19

11

Od 35 - 40

218

113

University degree, 180 ECTS

13

44

Od 40 - 45

244

117

University degree, 240 ECTS, 4/5/6 years

25

98

Od 45 - 50

173

86

Master 300 ECTS

3

Od 50 - 55

226

101

Master's Degree, old programme

0

0

Od 55 - 60

200

79

Doctors of science

0

0

Od 60 - 65

93

36

65

3

0

T O T A L

818

412

T O T A L

818

412
Source of data: Employment Service of the Republika Srpska